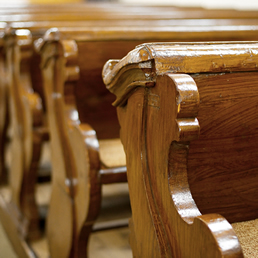 For many people (myself included) finding a new church is not easy, and in this day and age many people are skeptical and very cautious when it comes to choosing a church. So for the churches seeking to attract new members (which all churches should looking for new members) I've put together a short list of six useful methods to attract new members to your church. To be sure, some of these methods must not be 'a way to attract'… but much more so, they must be a way of life!
1. Have a website
It cannot be stressed enough the importance of churches having a website. Many times people looking for a church to attend begin their search by googling 'local churches' and looking at websites of potential church homes. In this modern age of technology it is absolutely imperative that the church be easily accessible to the people, and establishing a web presence is the most convenient means by which people learn about your church.
Your website should present a clear picture of your church, its' mission and beliefs. Service times and other important information should be easily found. Give a clear and accurate indication of what ministries you have. Have actual images of your congregation and not just stock images, so people get at least a little feel for what members of your church are like. I think it goes without saying to have clear directions for how people can get to your church. If at all possible, one of the best things you can have on your website is a multimedia section where potential members can watch and/or listen to sermons from your church. Integrating social media into your web strategy can be a very effective touch also if done correctly.
2. Welcoming and warm atmosphere
From the time a potential member arrives on the premises of your church they should feel welcome. There should be greeters at the door ready with a warm, genuine smile, and welcoming words. Your church should have a culture of authentic warmth, and exude the love of God. While it is half-way realistic to think that every member might not be of this way, there should at least be a team of volunteers who have a heart for this kind of service. It is important to note that 'genuine' does not mean being over-zealous to the point of possibly making potential members feel uncomfortable.
It is preferable not to ask visitors to stand among a bevy of strangers in order to be recognized. At some point toward the end of service, give visitors the opportunity to go to a designated area where they should be given some kind of token of appreciation for visiting, as well as more information about the church. This is also the perfect time to get their contact information to build further relationship them.
3. A church that operates in excellence and in order
This one point alone can determine whether or not a potential member will become a member. The church grounds should be clean. Restrooms should be pleasant. Ushers and greeters should pass out bulletins or programs that have useful information. Members should be willing and ready to answer questions that visitors might have or direct them to someone who can answer their questions. If there is child care, the area should be kid-friendly and the workers should be attentive and helpful.
Services should start on time and be organized. While surely there will be the welcome occurrences where there is a divine move of God, and the timing of a service might be thrown off a bit, for the most part service should be organized and in order.
Praise & worship should be a heartfelt expression to God and not merely a show, or just another part of service. Sermons should be inspired of God, and not something the pastor/speaker put together at the last minute in order to have something to preach about. A church that operates in excellence and order should be one in which God Himself would absolutely love to dwell in, both physically and spiritually.
4. Don't treat visitors as though they have no relationship with God
Every visitor to your church is not a non-believer, and it is a definite negative to treat every visitor as such. Even to treat the non-believer as such can be a turn-off to that person. Unfortunately, there are so many negative stereotypes of the church, with one of those perceptions being that people in the church are condescending and that they 'think they're better than everybody else'. To treat people as though they have no relationship with God only furthers that stereotype.
For most believers, as well as many non-believers, it is demeaning and belittling to be treated as a non-believer. Treat EVERY visitor like your brethren, grateful for them to visit your wonderful church home and be a part of all the wonderful things God is doing. To be treated like a brother/sister will be appreciated by the believer and the non-believer alike. For the visitor who is a non-believer and is seeking immediate help, have trained people who are adept at evangelizing in one-on-one situations, and who can provide that brother/sister with the help that is needed.
5. A forward-moving children & youth ministry
This can also be a very critical area which can determine whether a potential member will become a member. The truth of the matter is that the majority of potential members will have one or more kids under the age of eighteen, and whether or not there is a vibrant and engaging youth ministry at your church is an important deciding factor for parents and guardians.
Today parents are looking for churches where the whole family can be engaged and in an environment conducive for maximum growth. For a parent to be able to worship and be fed spiritually there is freedom in knowing that their church home has made it possible for them to have that experience freely while their child is being engaged and taken care of as well.
6. Follow up
After a visit, and you've collected the contact information from your visitors, the next important step is following up. Send your visitors a 'thank you for visiting' letter from the pastor, and invite them to come back to visit. In this letter you can also include vital information, and maybe even a special sermon message or other kind of token gift. For the person trying to find a church home this can be extremely gratifying. It might be just the one last touch to let that person know this is the church they want to call home.
While this list certainly is not exhaustive, it is a good starting point for considering methods you can use to attract new members. Please feel free to leave your best thoughts and ideas for attracting new members in the comment section below. Be blessed!!
Category: Outreach