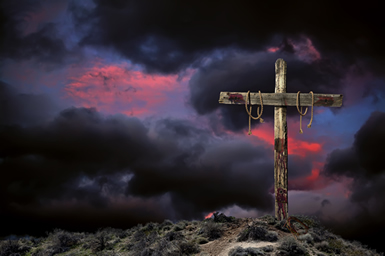 The other day I was alone in my quiet place, thinking and meditating on God, life, and purpose, when I began to think about my overwhelming desire to be used by God however He sees fit. To be salt and light in the earth. After praying and pouring my heart out to God I began to look through the Scriptures, and I ran across Galatians 2:20 (NKJV) when Paul said to the Galatians, "I have been crucified with Christ; it is no longer I who live, but Christ lives in me; and the life which I now live in the flesh I live by faith in the Son of God, who loved me and gave Himself for me". While the concept of dying to self is not foreign to me, I gave pause and began to look deeper into the process and necessity of dying to sin and self.
Why do I have to die?
When we accept Jesus Christ as our personal savior dramatic changes must take place. At that point we are to become followers of Christ, otherwise known as disciples. Jesus requires that we die to ourselves in order that we might become His disciples. Galatians 5:24 tells us, "Those who belong to Christ Jesus have crucified the flesh with its passions and desires". Further, Jesus tells us in Luke 9:23,24, " 23  …If anyone desires to come after Me, let him deny himself, and take up his cross daily and follow Me. 24  For whoever desires to save his life will lose it, but whoever loses his life for My sake will save it."
After accepting Jesus Christ as our savior we must begin to turn from our old ways and begin to bear fruit that will glorify God (John 15:8). In order to be used by God in the purpose for which He predestined in our lives, we must die to self . It is only through denial of self and a rejection of our own desires, that the fullness of God's power will be unleashed in us. When we get to that point we begin to reach new dimensions…we begin to grow, expand, and become true disciples of Christ. We begin to grow more hungry for higher levels, and our thirst to do God's will becomes unquenchable! Dying to self is a necessity because we must always press toward the mark of excellence in Christ!
How do I die to myself?
In Luke 14:26,27 Jesus tells the multitude, "26 If anyone comes to Me and does not hate his father and mother, wife and children, brothers and sisters, yes, and his own life also, he cannot be My disciple. 27 And whoever does not bear his cross and come after Me cannot be My disciple". "Whoa", you may say. "Jesus wants us to hate our family and ourselves?" In this passage of scripture Jesus was not speaking literally. He meant hating our family and ourselves in a figurative manner. What He was saying here is that, the call of God must mean more than anything else in our lives. How many of us will choose Jesus over mother, father, brother, sister, or child? When it truly came down to it, who would we choose? Jesus' words in this passage are strong because He wants us to be fully aware of the expectation, sacrifice, and requirements to be disciples of Christ.
We die to ourselves by surrendering our total selves to Christ and the will of God in our lives. It does not mean that we aren't to love our family…it means that we must love God more. It does not mean that we are not to enjoy life… it means that enjoyment does not come before, or mean more than, service and commitment to Christ and the will of God. It means that everything we do in our lives must be in decency and order. This does not mean that we will be perfect and there won't be mistakes. And it doesn't mean that when we make mistakes we give up and go another way. Dying to self is something we must do daily (Luke 9:23). Even when we have bad days, we must continue to pick up our cross and press on.
What happens after I die to sin?
When we die to sin and deny ourselves daily we become disciples and radical transformation begins to take place in our lives. We begin to devote our time to God in prayer, devotion, and service. We allow Him to be the ruler of our lives and how we govern ourselves on a daily basis. Our hearts become full with the type of compassion and love that Christ has for us, and our minds are renewed (Romans 12:2). When we die to sin and ourselves it is truly the most beautiful and liberating experience we could ever imagine.
The alternative to dying to sin is dying in our sins, which leads to eternal damnation. When we die to sin and self we inherit the gift of eternal life (Romans 6:23). We earn a place in eternity with our heavenly Father. That alone is more than enough reason to lay down my sinful ways and give my life to Christ. Ultimately, we must all die, so that we may live. Choose Life!!
Category: Articles